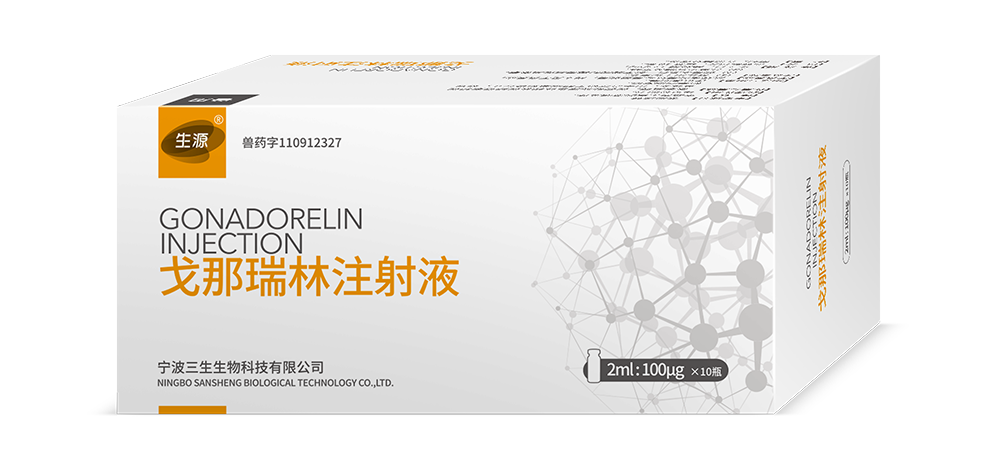 GONADORELIN FOR INJECTION

PRODUCT CHARACTER: colorless aqueous solution.
DOSAGE:Intramuscular injection after dissolution and dilution with water for injection or physiological saline. Once the ovarian functioning cow is diagnosed, the Ovsynch program begins, inducing estrus to start the Ovsynch program about 50 days after delivery. The Ovsynch procedure is as follows: 100-200 μg of gonadorelin is injected daily on the day of the start of the procedure, 0.5 mg of sodium cloprostenol is injected on the 7th day, and the same dose of gonadorelin is administered for the second time over 48 hours. In final, artificial insemination starts18 to 20 hours after injection of gonadorelin.
ACTION: Hormone drugs. Intravenous or intramuscular injection of a physiological dose of gonarelin (GnRH) caused a significant increase in plasma LH and a slight increase in FSH, prompting the ovulation of female ovary to mature ovulation or testicular development and sperm formation in male animals. After intramuscular injection, cows are rapidly absorbed and quickly metabolized into inactive fragments in plasma, and excreted in the urine.
PRODUCT STANDARD: 2ml/100μg
WITHDRAWAL TIME: NONE
WARNINGS: For veterinary use only. (1) It is forbidden to promote growth; (2) It is generally not possible to use other hormones at the same time after using this product. (3) Children should not touch this product
STORAGE CONDITIONS:
1. Protect from light.
2. Store in container.
3. Store at controlled room temperature of 15°-30° C.