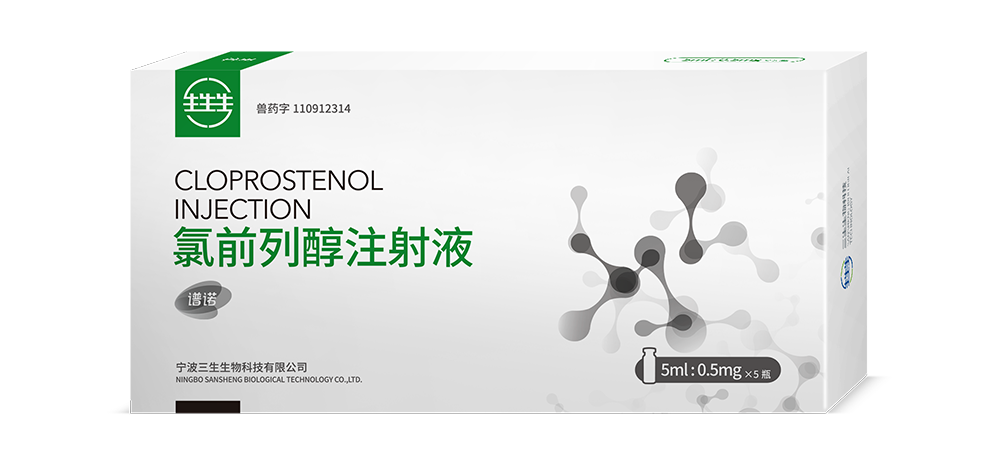 CLOPROSTENOL INJECTION

PRODUCT CHARACTER: colorless aqueous solution.
PRODUCT FEATURES: This product is a synthetic prostaglandin F2α homologue.  For intramuscular use to induce luteolysis in beef and dairy cattle. The luteolytic action of Estrumate can be utilized to manipulate the estrous cycle to better fit of "synchronization management", and inducing pregnant sows on childbirth.
ACTION: It has a powerful lysis of the corpus luteum, which can quickly cause the corpus luteum to regress and inhibit its secretion. It also has a direct excitatory effect on uterine smooth muscle, which can cause contraction of uterine smooth muscle and relaxation of the cervix. For animals with normal sexual cycles, they usually estrus within 2 to 5 days after treatment. Pregnant animals may abort depending on the stage of gestation
PRODUCT STANDARD: 0.5MG
WITHDRAWAL TIME: 1 day for both pigs and cattle
WARNINGS: For veterinary use only. Women of childbearing age, asthmatics, and persons with bronchial and other respiratory problems should exercise extreme caution when handling this product. In the early stages, women may be unaware of their pregnancies. Estrumate is readily absorbed through the skin and may cause abortion and/or bronchiospasms; direct contact with the skin should therefore be avoided. Accidental spillage on the skin should be washed off immediately with soap and water.
VADILITY PERIOD: 2 YEARS
STORAGE CONDITIONS:
1. Protect from light.
2. Store in container.
3. Store at controlled room temperature of 15°-30° C.
4. USE WITHIN 28 DAYS OF FIRST USE.