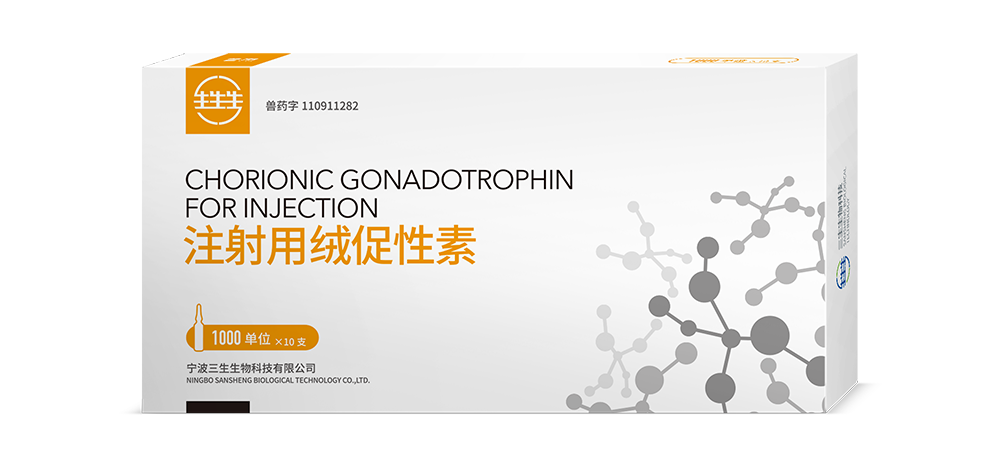 CHORIONIC GONADOTROPIN FOR INJECTION

PRODUCT CHARACTER: This product is a white lyophilized powder
PRODUCT FEATURES: It's a hormone . For sexual dysfunction, habitual abortion and ovarian cysts.
DOSAGE: Intramuscular injection: one dose, horses, cattle 1000~5000 units; sheep 100~500 units; pigs 500~1000 units; dogs 25~300 units.  2~3 times a week.
ACTION: This product has follicle stimulating hormone (FSH) and luteinizing hormone (LH)-like effects. It can promote the production of progesterone in the corpus luteum and promote ovulation. No effect on immature follicles. For male animals, it can promote the differentiation of testicular stromal cells and the secretion of androgen, promote the development and maturation of sexual organs and accessory sexual characteristics, and the anatomically abnormal animals. The velvet stimulating hormone can also lower the testicles of cryptorchidism.
PRODUCT STANDARD: 2000 units
WITHDRAWAL TIME: None
WARNINGS:(1) It is not suitable for long-term application to avoid antibody production and inhibition of pituitary gonadotropin function.
(2) This product solution is extremely unstable and not heat resistant and should be used up in a short time
VADILITY PERIOD: 2 YEARS
STORAGE CONDITIONS:
1. Protect from light.
2. Store in container.
3. Store at controlled room temperature of 15°-30° C.